Why Hire an ISA Certified Arborist?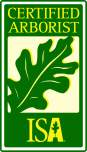 You want advice from a knowledgeable and experienced individual. An ISA Certified Arborist has at least three years of practical experience and has passed a comprehensive written exam covering all aspects of tree care. Subjects include tree biology, tree/soil relations, water management, disease diagnosis, proper pruning techniques and many other topics critical for a practicing arborist. ISA Certified Arborists must continue their education to maintain their certification.
Certification is administered by the International Society of Arboriculture and provides a measureable assessment of one's knowledge to practice proper tree care. You should consider certification to be a minimum requirement for an arborist to practice tree care on your property.
An ISA Certified Arborist can help you reach your landscape objectives, while considering the bigger picture. Some aspects of tree care that we can help you with are:
Selection of the right tree for the right location.
Proper pruning that considers the long term health and aesthetics of your tree.

Effects of construction

processes on your tree's health.

Training a young tree

to avoid common structural defects.
Fertilization needs of mature specimens.

Diagnosis

of disease or insect problems.
ISA Board-Certifed Master Arborist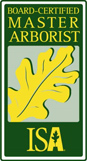 To ensure that you are receiving the highest level of expertise, ask to speak with an ISA Board-Certified Master Arborist. Master Arborists have passed a rigorous scenario-based exam and posses a high degree of technical knowledge about maintaining and preserving trees. Currently, fewer than two percent of all ISA Certified Arborists hold this credential. Trees are complicated living organisms. To make the right tree care decisions for individual trees—and for the urban forest as a whole—you need advice from a professional with a thorough understanding of plant science and ecology.